Tapiola Parish Model Railway Club
Pictures from Model-Expo 2000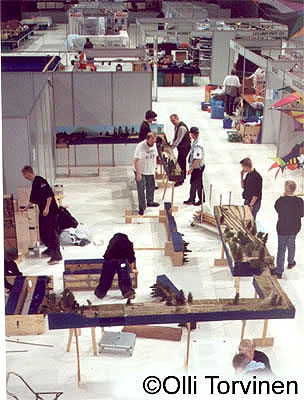 Radan pystytystä. Tässä näkyy selvästi, että moduulit liitetään kyljellään pareittain yhteen. Mikäli rata on soikion muotoinen, kootaan päädyt yhtenäisiksi ja nostetaan pystyyn kokonaisina.
Setting up: Here it is clearly visible that while the modules are lying on their side they are attached together as pairs, equipped with legs and then moved to approximately correct position. In case of oval format, the looping ends are assembled as whole units and rised as whole units (already set up here).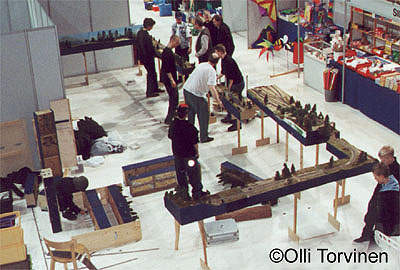 Edellisen kuvan keskellä ollut moduulipari on nostettu pystyyn ja siirretään nyt paikoilleen. Moduulit tuodaan näyttelyihin 2..4 moduulöin "tapuleina". Vasemmassa reunassa näkyy kuljetustapuli kyljelleen laskettuna, alin moduuli on jo irroitettu, ja seuraavaa ollaan irroittamassa.
The module pair visible on the previous shot is now lifted up and is being fitted to approximately correct position. Modules are transported in stables of 2..4 modules. at the left of this picture one of the stables is being turned on its side and lowest module has been extracted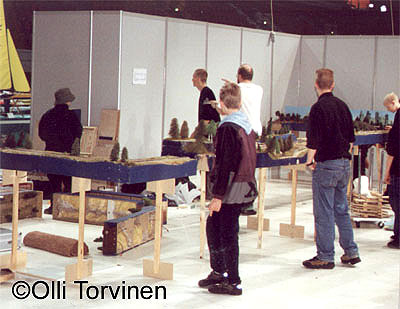 Rataa alkaa saada muotoaan...
The layout is getting into shape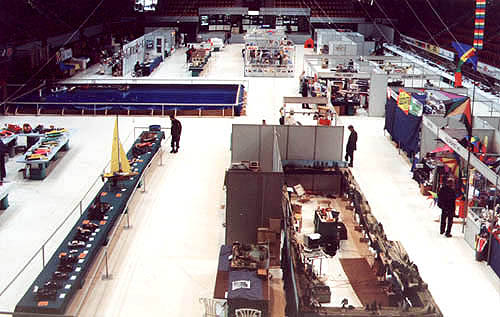 Yleisnäkymä hallin jääalueelle ennen näyttelyn avaamista. Etuoikealla TaPRK:n rata.
General wiew to the exhibition area before opening the exhibition. Tapiola Club's H0-railway in front.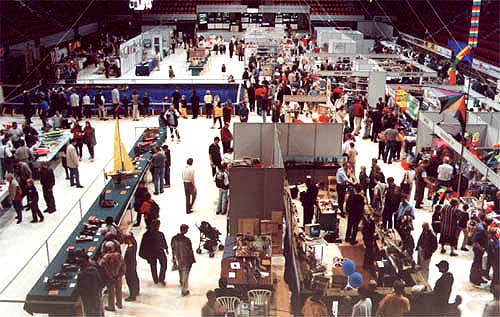 Sama kuva sitten, kun näyttely oli ollut auki jo pari tuntia...
Same as previous, but when the exhibition was opened few hours ago...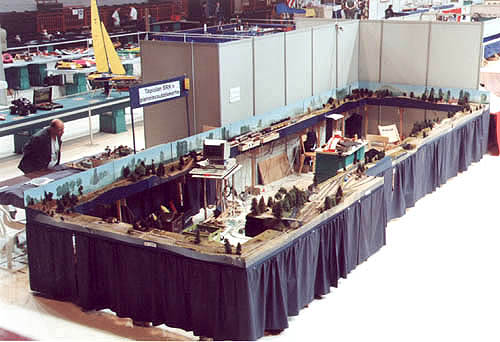 Tapiolan SRK:n pienoisrautatie. Verhot tulevat todella tarpeeseen, sillä radan sisäpuoli on aina todella epäsiisti. Yöksi kaikki kalusto ajettiin piilopihalle (takana).
Tapiola Club's model railway. Curtains are really needed, becouse the area inside the railway was very messy.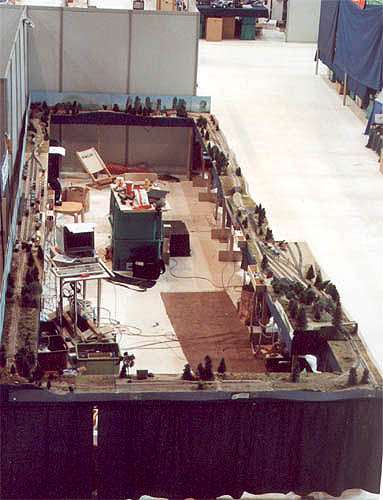 Sama kuin edellinen, mutta toisesta kulmasta. Lattialla oleva matto suojaa radan kaapeleita, ja estää samalla niihin kompastumisen.
Same as previous, but from another angle. The mat on the floor will protect the cables and protect human to strumple them.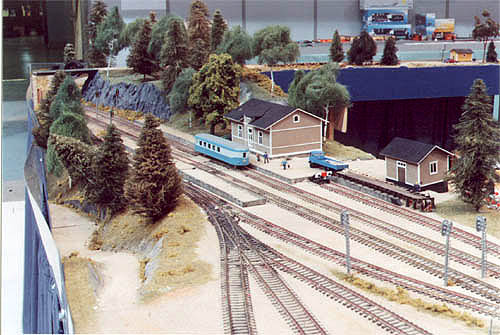 Jostain syystä EFiab -liitevaunu on jäänyt "Ison aseman" 1-raiteelle.
For some reason, the EFiab -coach was stay at "Big station's" 1st track.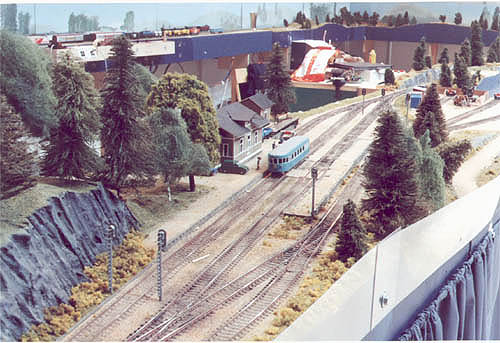 Ja sama toisesta kulmasta... Piilopihalla (taustalla) näkyykin jo sininen Dm7 -vetovaunu, joka on tulossa noutamaan jo matkustajista täyttyvää liitevaunua.
And same from another angle. On the "hidden" railway yard is one, blue Dm7 -DMU coming to fetch the EFiab -coach.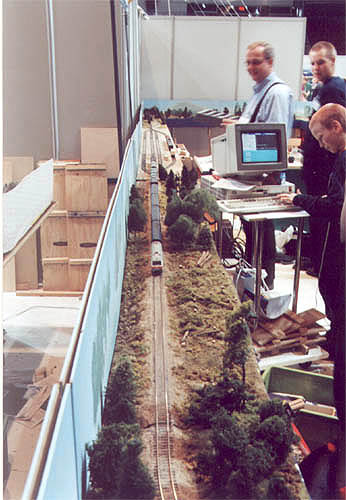 Hätäjarru on kätevä keksintö: kuten tarkat katsojat saattavat huomata, on Sr2:n vetämän matkustajajunan perään viime hetkellä pysähtynyt toinen juna... Vasemmalta Kari, Opa ja Lauri.
An emergency brake is very useful: there is one train just stopped behind the another one. From left: Kari, Opa and Lauri.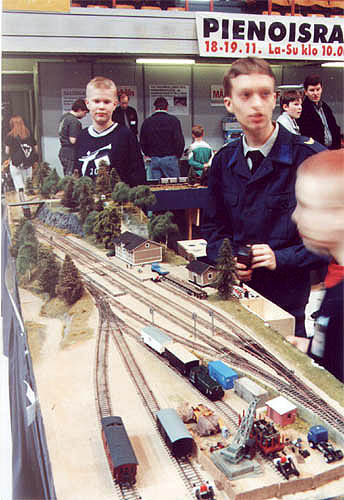 "Isolle asemalle" on kertynyt jo muutamia vaunuja. Vasemmalta alkaen Olli, Väiski ja Lauri.
Now there is some waggons at the "Big station". From left: Olli, Väiski and Lauri.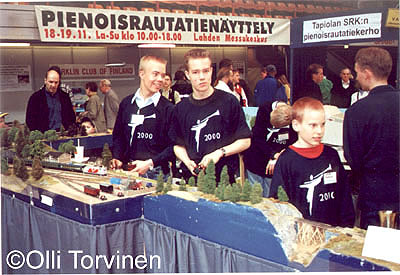 Ajamassa (vasemmalta) Masa, Tupu ja Lauri
At the controls (from left) Masa, Tupu and Lauri
---
9165 kävijää/visitors
© 1996-2023 Tapiola Parish Model Railway Club / Tapiolan seurakunnan pienoisrautatiekerho, Viimeksi päivitetty / last modified (none). Created with Notepad.



[CONTACT INFO] Don't send e-mail!
Text, drawings and photos are protected by copyright laws. Technical solutions, methods and source code are public domain only for non commercial purpose. All development has been carried out during our free time, mainly funded from our own pocket and with non selfish goals, so the use of this material for profitable use (including construction for a friend aginst a fee) is forbidden without written permit from the club. The pages contain errors, so, if you use the data given, you do so at your own risk and responsibility. If you further develop material found on these pages you must put it on display without fee e.g. to a freely available web page. We expect a note about this also.
Pages tested with W3C validator -- didn't look good ;)

[YHTEYSTIEDOT] Älä lähetä sähköpostia!
Tekstit, kuvat ja piirokset ovat tekijänoikeuslain suojaamia. Tekniset ratkaisut, menetelmät ja lähdekoodit ovat vapaasti kopioitavissa ja hyödynnettävissä ei-kaupallisissa tarkoituksissa. Kaikki kehitystyö on tehty vapaa-aikana ja pääosin henkilökohtaisilla varoilla eikä hyötymistarkoituksessa, siksi materiaalin käyttö hyötymistarkoituksiin (sisältäen kaverille rahasta rakentamisen!) on kielletty ilman kerhon kirjallista lupaa! Sivuilla esiintyy virheitä. Jos käytät sivujen tietoja hyväksesi, teet sen täysin omalla vastuullasi. Mikäli kehität sivuilla esiettyjä ajatuksia kytkentäkaavioita tai koodia edelleen, on sinun asetettava se maksutta kaikkien saataville esimerkiksi Internetiin. Odotamme vastavuoroisesti tietoa suoritetusta edelleenkehitystyöstä.
Sivut testattu W3C validatorilla -- ei näyttänyt hyvältä ;)
---